Moscow-Kazan HSR-2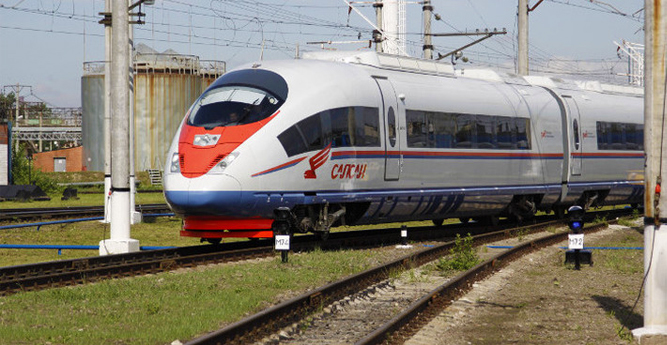 What is HSR?
High-speed rail is the newest type of railways which allow trains to move at speed of more than 200 km/h. The minimum speed limit defining railways as high-speed varies from country to country. In Europe and Asia modern high-speed trains operate at 300 km/h.
Moscow-Kazan-Ekaterinburg HSR.
The Eastern regions of Russia were the first where the question of improving transport connectivity was raised. In 2009 the Governments of Tatarstan and the Sverdlovsk Region suggested the idea of creating a high-speed network.
On May 27, 2013 the decision to construct the first high-speed rail line "Moscow-Kazan" with the possibility of its prolongation to Ekaterinburg was announced by the Russian President Vladimir Putin at the meeting concerning the prospects for the high-speed rail transport development.
In June 2015 during St. Petersburg International Economic Forum, JSC "High-Speed Rail Lines" and a consortium of design companies headed by JSC "Mosgiprotrans" with the participation of JSC "Nizhegorodmetroproekt" and China Railway Eryuan Engineering Group Co. Ltd signed a contract for the development of the design documentation.
The first step in the project implementation is the construction of the Moscow-Kazan HSR section which will go through seven regions of the Russian Federation: Moscow and the Moscow Region, the Vladimir and Nizhny Novgorod Regions, Chuvash Republic, Mari El Republic and the Republic of Tatarstan.
The project is implemented by JSC "High-Speed Rail Lines" the associated company of Russian Railways.